Singing lessons are fun and useful to perfect your artistry, but our voice, mind, body and feelings are deeply interconnected. Any change in any of these can affect the others, and knowing this and how to deal with it could be the key to unlock your full vocal potential (and who knows, maybe also be a little bit happier when you're not singing!).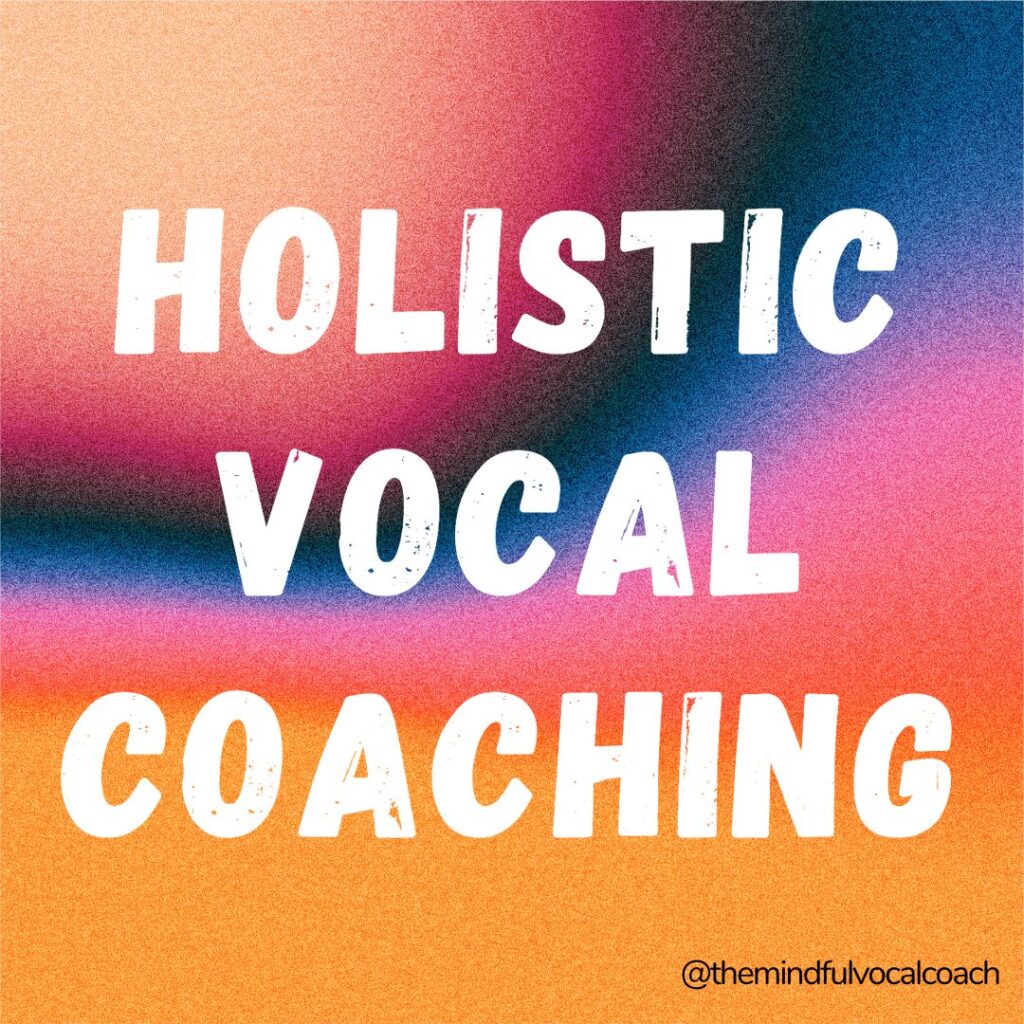 With holistic vocal coaching you can access a new dimension of your voice and your whole being. A holistic vocal coach addresses your voice as a part of the "whole" that you are, using approaches that will make you a mindful singer. Holistic vocal techniques don't only work on the voice per se, but they also look at the mental, physical, psychological and emotional parts of the individual who sings or speaks. All these elements are fundamental to be balanced and reach your goals as a singer (and not only as a singer!). They are intertwined and interconnected, and they can influence one another, which is why it is important to understand that we must pay attention to all of them if we want to explore our full potential.
Holistic Vocal Coaching is definitely about vocal technique, but it is not limited to that. It's a process that uses your voice to nurture your mind, body, and spirit. Through personalised techniques and exercises, you can explore the multidimensional aspects of your voice, connecting it with your body and mind .
In addition to my experience in singing and vocal studies I am a counsellor in training and a psychology student, and I have a passion for mindfulness, meditation and holistic approaches. This helps me have a vision that is not only focused on the voice, but also looks at and takes care of all aspects of the body and the mind. With my holistic approach, we'll focus not only on vocal technique but also on enhancing your overall well-being. Using mindfulness and Gestalt techniques, we'll address any tension or blocks that may be stopping you from using your voice freely. You'll discover the full power of your sound and maybe discover something more about yourself.
Lessons include vocal warm-ups, vocal self care and vocal health tips, to keep your instrument in its best shape. In addition to this, my approach in vocal coaching takes into account all dimensions of the voice and of our mind and body.
Whether you're a beginner who uses their voice for fun or a professional performer looking to overcome your boundaries, holistic vocal coaching can help you improve your singing and your well being.
Message me at valerio.lysander@gmail.com or click on https://www.valeriolysander.com/singinglessons for more info about my lessons and book your first session!